Sex and the City Party Package
Complete Package from $135.00 per person
Price based on a minimum of 10 guests (smaller & larger group packages also available)
Expresso martinis, strawberry daiquiri's, mojito which girl doesn't love a cocktail or too while catching up with her besties! Do it Sex and the City style in this ladies' weekend getaway in Surfers Paradise. Your one-night escape starts as a stylish stretch hummer picks you and your girls up. Pump those beats as these hummers can go really loud! Forget about everything, because its your night out! Don't forget the bubbles because yes its BYO!! Rock up to your Cocktail Party in pure elegance as you step out be greeted by your sexy topless waiter who is yours for two hours to simply stare at! But ladies make him work, get him to grab you drinks or maybe play some naughty party games with him to get everyone excited and in full party swing! The Down Under Party Tour host will hunt you down as you start the party tour in the same venue! The heat will be well turned up as you kick off to three other nightclubs, where your awesome party host will keep you and your girls entertained all night long!!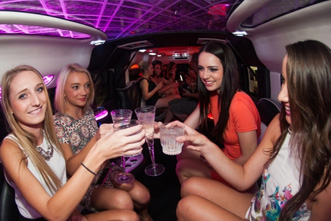 Hummer Cruise
It's a cocktail party so why not dress up! Get ya hair did and nails done and feel like a star for the night! Meet at one of your girls houses for some pre nibbles and drinky's before your glamourous hummer arrives to pick you up and take you out! Your hummer comes complete with a built in state of the art sound system, laser strobe and neon lighting. So bring the rest of the champers because its BYO and the party is only just beginning! Cruise around town singing and dancing with just your girls, how about getting the driver to head down to spit and get a few snaps for FB!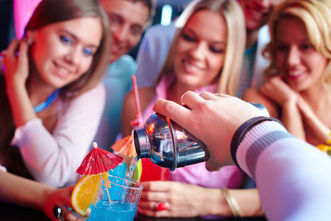 Cocktail Party
Your Hummer will drop you off at your Cocktail party where you will be greeted by a sizzling hot topless waiter at your reserved table holding your drinks! He is all yours! Get him to bring you drinks, feed nibbles into your mouths or how about get him involved in your party games…I am sure you will not stop giggling as your night starts to steam up! Choose a delicious cocktail and enjoy a couple of tasty platter for whole group to nibble on. Soak up the live bands and party atmosphere while you catch up with your girls just like Carrie, Charlotte, Miranda and Samantha did before they head out for a night on the town!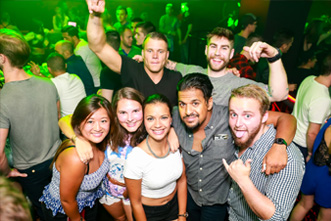 Down Under Party Tour
As you are now relaxed and well caught up, its time to start your Down Under Party Tour! Your awesome party hosts will take you around four of Surfers banging clubs! As they keep you entertained through out the night with loads of funny party games and get prizes to be won…we can not forget all of the fun party people you will meet along the way! Drinks and more nibbles who knows where your night will end! You might even get to watch a beautiful sunrise on the beach with a special person… This Sex and the City party package is a definitely must do if you are coming to Surfers Paradise with the girls.
---
Book Your Party Package Online